Disaronno International b.v. in Amsterdam, is een volle dochter van het Italiaanse Illva Saronno S.p.A., de fabrikant van de internationaal beroemde likeur Disaronno. Disaronno International B.V. is verantwoordelijk voor de verkoop en marketing van diverse alcoholische en non-alcoholische dranken in Nederland.
Uiteraard nemen wij geen likeur mee naar Whisky By The Sea.
Wel nemen we mee The Busker Irish Whiskey. En alle overige producten in de lijst hieronder.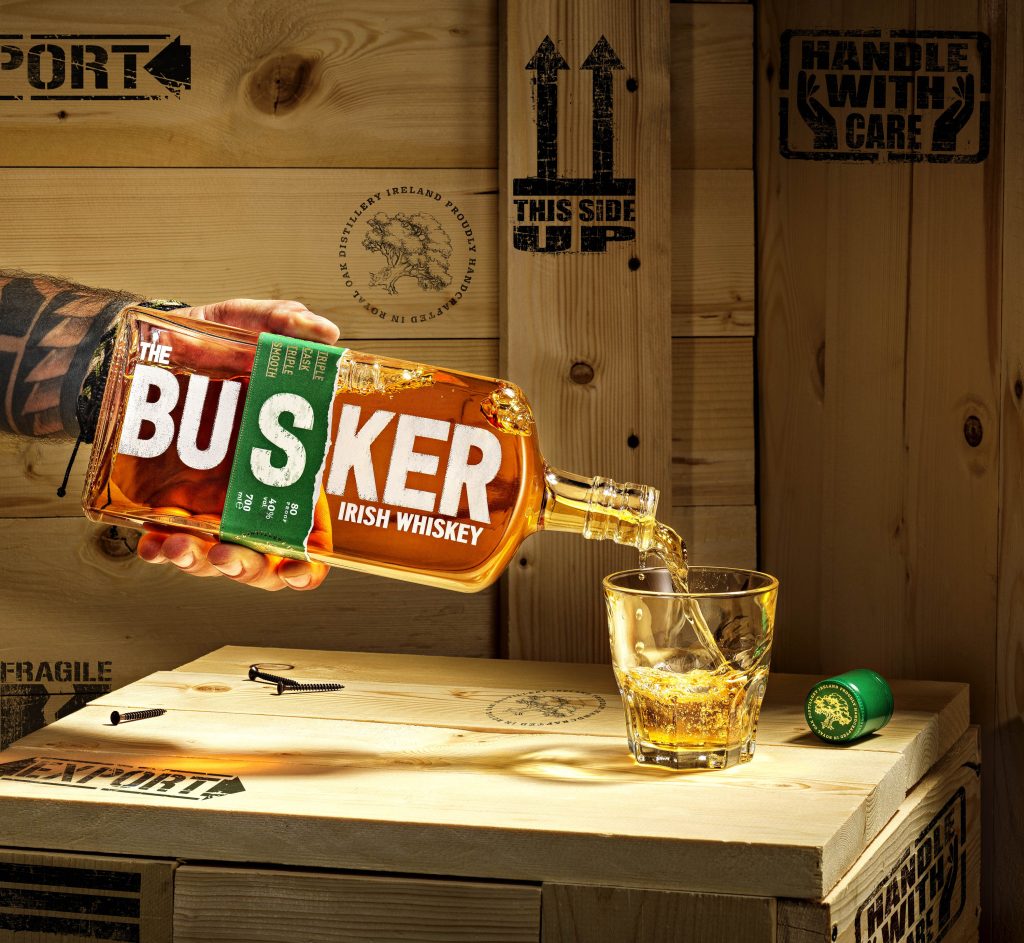 The Busker is voor de personen die uit zijn op beleving… Personen die altijd een verhaal te delen hebben… perfect voor degenen die nieuwsgierig zijn naar smaak, gretig naar inspiratie en een Ierse kwaliteitswhiskey als geen ander zoeken.
The Busker omvat alle vier soorten Ierse whiskey (Single Grain, Single Pot Still, Single Malt en een Blend) en wordt gemaakt in de Royal Oak Distillery.
EIGENTIJDS EN GEDURFD
The Busker! Een stoere moderne fles met een korte nek, sterke schouders en rechthoekige lijnen. Gebruiksvriendelijk en gemakkelijk vast te houden. Een gescheurd etiket met grote letters en mooie kleuren om de huidige whisk(e)y drinker te verleiden.
The Busker gebruikt verschillende vaten gedurende het rijpingsproces van zijn whiskeys: ex Bourbon, Sherry en zeldzame Florio Marsala vaten uit Sicilië. Laatstgenoemde zorgt voor unieke tonen in de whiskey zoals gedroogd fruit en vijgen.
| | | |
| --- | --- | --- |
| The Busker Triple Cask | 0,7 | 40,0% |
| The Busker Single Grain | 0,7 | 44,3% |
| The Busker Single Malt | 0,7 | 44,3% |
| The Busker Single Pot Still | 0,7 | 44,3% |
|   |   |   |
| The Irishman Harvest | 0,7 | 40,0% |
| The Irishman Single Malt | 0,7 | 40,0% |
| The Irishman Caribbean Cask | 0,7 | 46,0% |
| Writer's Tears Copper Pot | 0,7 | 40,0% |
| Writer's Tears Red Head | 0,7 | 46,0% |
| Writer's Tears Cask Strength 2022 NEW | 0,7 | 54,2% |
| Writers' Tears Florio Marsala Cask Finish | 0,7 | 45,0% |
| Writers' Tears Japanese Mizunara Cask Finish | 0,7 | 55,0% |
|   |   |   |
| Elijah Craig small batch bourbon | 0,7 | 47,0% |
| Rittenhouse straight rye whisky | 0,7 | 50,0% |
|   |   |   |
| Waterproof blended malt | 0,7 | 45,8% |
| Islay Mist Original Peated Blend | 0,7 | 40,0% |
| Islay Mist Double Peated Blend | 0,7 | 40,0% |
| Islay Mist Original 10 years old | 0,7 | 40,0% |
|   |   |   |
| Barcelo Gran Anejo Dark | 0,7 | 37,5% |
| Barcelo rum Imperial | 0,7 | 38,0% |
| Barceló Imperial Porto Cask Finish (okt 2022) | 0,7 | 40,0% |
|   |   |   |
| Frapin VSOP | 0,7 | 40,0% |
| Frapin Château Fontpinot XO | 0,7 | 41,0% |
|   |   |   |
| Boulard VSOP | 0,7 | 40,0% |
|   |   |   |
| Templeton Straight Rye Whiskey 4 yrs | 0,7 | 40,0% |
| Templeton Single Barrel Rye Whiskey 10 yrs | 0,7 | 52,0% |
| Templeton Straight Rye Whiskey Stout Cask Finish | 0,7 | 46,0% |